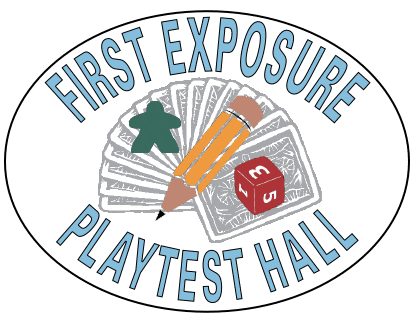 ONLINE
---
A Special Event For Designers and Publishers to playtest their latest creations and for Players to assist!
---
Presented by Double Exposure (organizers of METATOPIA, DEXCON, DREAMATION, and the Envoy Program), who will adapt their unique play testing formulas and systems to Gen Con Online.

Designers and publishers will present their prototypes in the First Exposure Playtest Online (FEPO) and Gen Con Online attendees have a chance to play them for free. Tabletop Simulator (for board and card games) and Zoom (for some role playing games) will be used to recreate the experience of matching players to playtests that they will enjoy. Double Exposure will be assisting all presenters with the online conversion.

For designers or publishers of a game-in-development, this is a chance to get it in front of the huge number of passionate gamers attending Gen Con Online. Put your idea into Tabletop Simulator, see how it survives "in the wild," and get immediate, direct feedback. If there are specific types of players from which feedback is requested, let FEPO staff know and they will help find them for you, to get focused, targeted feedback.

For players, this is an opportunity to get a peek into the game design process and help make the next generation of games even better - you may even get named in the playtest credits of an upcoming release! For each session, players will have a chance to see what kind of games are available to try out, and FEPO staff will place them in playtests that match their interests whenever possible.
Click here to register for Gen Con Online 2020 or to select player slots in the Gen Con Registration System:
https://www.gencon.com
Click here to register as an Author, Publisher or Designer:
https://www.gencon.com/host/fepo2020
Once you've registered as an Author, Publisher or Designer, we will work with you to schedule your events!
For more information, send email to: firstexposure@dexposure.com.