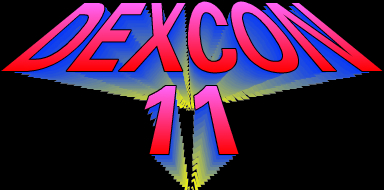 Where America Comes to Play!
Wednesday, July 16 - Sunday, July 20, 2008
at the East Brunswick Hilton
in East Brunswick, New Jersey
---
---
Panels & Seminars Schedule for DEXCON 11
Updated 7/4/08

You may ONLY reserve seats in DEXCON 11 events if you are pre-registered. Click here to pre-register for DEXCON 11 if you have not already done so.

To reserve your spots in the events you want to play in, send eMail to THIS ADDRESS ONLY and include your name and the events you want to register for NOTE: You may ONLY choose Event Codes which are SHOWN IN GREEN. DO NOT CHOOSE CODES WHICH ARE SHOWN IN RED. Red Event Codes indicate later rounds in tournaments which you will be automatically advanced to if you win the preliminary rounds.

We will reply within 24 hours with a confirmation that your reservations were received. If you do NOT get a confirmation, assume that your codes are NOT received and try again. Note that you MUST include a valid eMail reply-to address for us to reach you to confirm!
---
---
---
The Event Listing contains vital information about each event, in the format shown below:

Event ID; Type of Event; Event Name; Event Author. Event Description. Event Day & Time; Round (1); Materials (2). Level (3); Attitude (4), Age Notification (5). Next Round (6) (if applicable); See Also: Repetition of event or round (if applicable).

In the interest of conserving space, repeat listings of the same event or multiple round events will contain only the title, a reference to the first listing, time and round information. Note that prizes are usually NOT listed; all prizes will be gallery level certificates (or applicable awards), unless otherwise specified. In the case of cash prizes, Double Exposure reserves the right to withdraw the grand prize based on attendance of the specific event. All cash value prizes will be awarded as certificates or shopping sprees for the Dealers' Room, and MAY be transferred to future Double Exposure conventions.

Notes:

(1) One Session; One round; 1 of x = First round, etc.; 1A of x = Same round repeated elsewhere.

(2) All Materials Provided (except dice); All Materials Offered (except dice), but feel free to bring your own; Bring Your Own Materials (and characters, if applicable).

(3) Beginners ONLY; Beginners Welcome; Knowledge of rules Necessary; Experts ONLY.

(4) Very Silly; Silly; Fun; Serious; Very Serious.

(5) All Ages; Under 18 Requires Parental Clearance; 18 & Over ONLY; Recommended For Young Players.

(6) All "Next Round" listings show which specific round or session you will be scheduled for automatically if you advance. This information is vital, and you should be aware of it, although you CAN reserve an alternate selection which takes place at the same time as a future advancement round. At the appropriate time, you will cancel one or the other. Note that all available events are shown in GREEN, and all advancement rounds are shown in RED.

All Special Headline Events are shown in YELLOW.
---
D909: Meet the Guests. Many of our guests will arrive at DEXCON 11 on Wednesday night; while it is still relatively quiet after Opening Ceremonies, this is your chance to meet them and hear from each of them about what they are doing in 2008 and what their aspirations are. Humorous anecdotes on a variety of subjects are always welcome! Wednesday, 10:00PM - 12:00AM; One Session; Fun, All Ages.

D910: The REAL Story. Join the Double Exposure crew for a hilarious romp through history as we exchange ideas about how things REALLY happened. Forget those textbook explanation...we have the REAL story... Wednesday, 12:00AM - 2:00AM; One Session; Very Silly, All Ages.

D911: Combat in the Avatar System. A look at how combat actually works in Double Exposure's Avatar System 3.0 , from the GMs and Assistant GMs of the system. Learn how mass combats actually work, and how you can help to speed them up. Learn how to rely on your common sense instead of poring over rules needlessly. This panel is designed for experts and beginners alike. Thursday, 6:00PM - 8:00PM; One Session; Serious, All Ages.

D912: What's New At...?. We invite all of our game company reps to come talk about what's new and interesting, and what we can look forward to seeing from them in 2008. Come boast! Come show off the new stuff! Casual, forum-style chat. Friday, 1:00PM - 2:00PM; One Session; Serious, All Ages.

D913: Costuming Design and Considerations for LARPing. When playing in a Live RPG, costuming can mean the difference between an average PC and a memorable one, and an OK time playing and a lousy time spent in uncomfortable costuming. Whether it's an 4-Hour independant session, an outdoor Boffer LARP, or a weekend-long indoors event, your choice of costuming will affect both how much you enjoy the game, and how others enjoy your presense. We'll go over basic concepts, designing your costume, makeup, safety, and gradually improving it over the course of the PC's life without killing your wallet. Friday, 4:00PM - 6:00PM; One Session; Serious, All Ages.

D914: Video Gaming: 2008. The Double Exposure Video Game Staff leads a discussion of video gaming in the coming months, including handheld gaming and the dearth of titles hitting consumers, and a comparison of the XBox 360 vs. the Wii vs. the PS3. A lighthearted exploration of the state of the industry. Friday, 8:00PM - 9:00PM; One Session; Fun, All Ages.

D915: Women in Gaming. Where did all these female gamers come from? Gaming used to be (mostly) a guy thing. How did that change, and what do women bring to the table, so to speak, that men might not? Friday, 9:00PM - 10:00PM; One Session; Serious, All Ages.

D916: The DEXCON 11 Art Jam. In this special event started at DEXCON 6, we gather as many of our artist guests as we can, and have them collaborate on a large mural. Aspiring artists are welcome to join in as well! Friday, 12:00AM - 2:00AM; One Session; Serious, All Ages.

D917: Q&A With Rick Loomis: "How I Started a Business with Play By Mail". Rick Loomis runs this panel in which he tells his wonderful story of how Flying Buffalo Games got started as a PBM company. He'll be happy to answer questions about his business or how you might be able to get started with yours! Saturday, 1:00PM - 2:00PM; One Session; Serious, All Ages.

D918: Super Heroes in 2008. Hero Games President and designer Darren Watts leads a discussion of the current Super Hero phenomenon on TV, in the movies and of course in gaming. Where is it going this year and in the future? Join the discussion and find out! Saturday, 6:00PM - 7:00PM; One Session; Serious, All Ages.

D919: Breaking into the Gaming Industry. Join our panel of experienced gaming industry mavens as they explain how things look in 2008 and how you can get your game from concept to market. Various company representatives will be on hand to compare points of view. Saturday, 7:00PM - 8:00PM; One Session; Serious, All Ages.

D920: The Bill Holbrook Brain Fry. Join our special comic artist guest, Bill Holbrook, and talk about his three comic strips (On the Fastrack, Safe Havens and Kevin & Kell); their history, their continuity, and their future. Your ideas COULD become a part of future storylines! Saturday, 9:00PM - 10:00PM; One Session; Fun, All Ages.

D921: Comic Artist Jam Session. All of our comic artist guests will be collected for this event, and will talk about topic such as how they got started, how they get their inspirations, and give tips on how aspiring comic artists can submit their best efforts. In attendance will be Bill Holbrook, John Lotshaw and others! Saturday, 10:00PM - 12:00AM; One Session; Fun, All Ages.

D922: The DEXCON 11 Writer's Workshop. Are you an aspiring writer? Have a story inside you and want to find out how to get it into print? Join our esteemed panel of authors and other professionals who will talk about how to get your wonderful ideas into the hands of millions! Saturday, 12:00AM - 2:00AM; One Session; Serious, All Ages.

D923: Game Companies and Convention Support. A panel to discuss the relationship between gaming conventions and game companies. Topics include public relations, demo teams, determination of which conventions to attend and maintaining a positive relationship. Sunday, 12:00PM - 1:00PM; One Session; Serious, All Ages.

D924: The Independent Publishing Roundtable. Everything you ever wanted to know about designing, publishing, and promoting your own role playing game, but were afraid to ask. Come join us and we'll discuss everything from game design goals, play testing, printing techniques and cutting-edge theory to sales and marketing. Creating your own RPG has never been easier than it is right now! Fresh faces and old hands equally welcome. Sunday, 1:00PM - 5:00PM; One Session; Serious, All Ages.
---
For further information, click here to send eMail.